endangered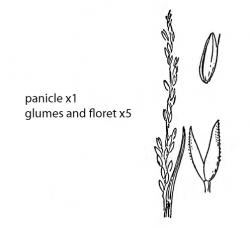 Illustration from Hitchcock (1971)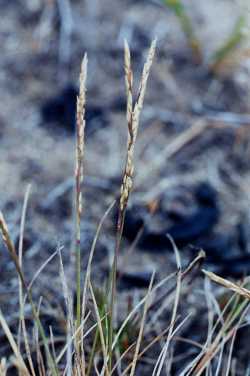 Photo taken in Marin County © Doreen Smith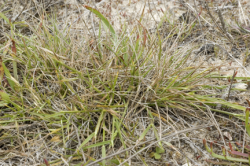 Photo taken near Greyhound Rock County Park © 2007 Dylan Neubauer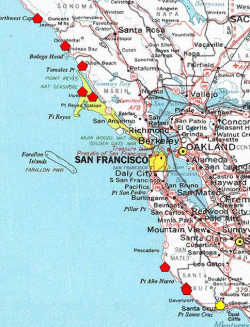 A red polygon indicates an extant occurrence; yellow indicates the occurrence has been extirpated
---



This fact sheet was prepared by Dylan M. Neubauer under award NA04N0S4200074 from the National Oceanic and Atmospheric Administration (NOAA), U.S. Department of Commerce (DOC). The statements, findings, conclusions, and recommendations are those of the authors and do not necessarily reflect the views of the NOAA or the DOC.
© Copyright 2006, Elkhorn Slough Coastal Training Program
Last updated: Mar 21, 2016 18:26
Common Names - Blasdale's bent grass
Family - Poaceae (Grass Family)

State Status - none
Federal Status - none
Habitat
Generally occurring in seasonally moist areas in coastal prairie on exposed sea bluffs and coastal headlands in areas often subject to salt spray; also can occur just inland in mosaic of coastal prairie and coastal scrub, occasionally in aeolian sand deposits. Habitat in Point Reyes includes stabilized hind-dunes and sites on barren rocky sandstone or decomposed granite. Prefers areas of reduced competition. As Crampton observed (1967), this plant is not a "good competitor in the coastal grassland association ... [and is] best developed on patches of nearly barren ground typical of the coastal bluffs and old stabilized dunes."
Key Characteristics
Tufted perennial 6–30 cm tall, decumbent to erect; basal leaves short, rigid, generally < 1 mm wide, ± inrolled; inflorescence dense, cylindric, 2–8 cm long, the base generally partly included in upper leaf sheath, primary branches ascending to appressed, proximal generally < 0.5 cm; glumes 1.8–4 mm long; callus glabrous; lemma 1.5–3 mm long, occasionally awned above middle, awn < 0.7 mm, straight, palea ± 0.3 mm, < 1/3 length of lemma (Peterson and Harvey 2014).
Flowering Period
May to July

Reference Population
Greyhound Rock County Park (Santa Cruz County)
Global Distribution
Endemic to the central and northern California coast (Santa Cruz, San Mateo, Marin, Sonoma, and Mendocino counties).

Taxonomy
This entity was originally referred to Agrostis breviculmis Hitchc. (Hitchcock 1905), which is now considered to be restricted to South America. In 1928, Albert S. Hitchcock described A. blasdalei from a type specimen collected in 1899 at Fort Bragg, Mendocino County.
In 1967, Beecher Crampton described A. b. var. marinensis (Marin bent grass) from a type specimen collected in a "granite outcrop flat ... in decomposed granite" near Dillon Beach in Marin County. This narrow endemic was distinguished from var. blasdalei by having lemmas 2.5 mm or greater and glumes 3–4 mm long, and was State-listed as "Rare." Though recognized by Munz and Keck (1973), the variety was not recognized in the first edition of The Jepson Manual (1993), nor has it been resurrected in more recent treatments (see Peterson and Harvey 2014). The taxon officially lost its rarity designation in 2008 (California Fish and Game Commission).
Santa Cruz County botanist James A. West has observed this species over many decades in the Swanton area and states that populations of A. blasdalei in that region are highly variable as to overall gestalt and occasionally show introgression from the sympatric species A. densiflora and A. exarata sensu lato (2015). He thinks that investigation is warranted to determine whether the DNA signature of populations south of the Golden Gate differs from that of populations north of the Golden Gate, as well as whether populations within the Swanton area differ from each other. It is clear that molecular analysis is needed to tease out the relationships between members of this morphologically difficult complex.
Conservation and Threats
The southernmost occurrence (in the Bonny Doon region of northern Santa Cruz County) does not appear in the CNDDB, but is documented by two specimens (1984,1993) from the Laguna Creek Beach/Sand Hill Bluff area on California State Park land. A survey is needed to determine the condition of this population, should it remain extant. Non-native species, recreational use, and coastal erosion are known to be threats in this biologically sensitive area, home to a number of locally rare species.
Approximately seven populations are located in the Swanton area of northern Santa Cruz County, with six of them occurring on the Swanton Pacific Ranch (owned by Cal Poly San Luis Obispo) and one occurring on private land to the north of the ranch. The status of the latter population is currently unknown. The inland populations on Swanton Pacific Ranch, located on the second coastal terrace (and adjacent slopes), occur in areas lightly grazed by cows, though this does not appear to have had a deleterious effect on the plants (West, pers. comm.). Some plants in the Swanton populations have been parasitized by the ergot fungus and succumb to the infection while other plants appear to be "immune" (West, pers. comm.).
The largest population, located on the lowest coastal terrace (ca. 106,000 years old), occurs primarily in a disturbed, barren, sandy area that had been the site of test drilling for shale oil in the 1950s (West, pers. comm.). It was first discovered in the late 1970s by James A. West and has been observed/documented regularly since that time. Nine hundred plants were observed initially, exhibiting "an extreme range of diversity in growth habit, with plants densely cespitose to rhizomatous, and inflorescence length and morphology" (West pers. comm.) West has observed that plants in this population comprise two forms—one with glume/lemma tips acute, and one with glume/lemma tips truncate. Seed and specimens have been collected from this population and others in the Swanton area in order to document the diversity of forms and to provide material for further phylogenetic research. In 2015, this site supported approximately 1,000 plants (West, pers. comm.).The main threat to this population is coastal erosion.
A small population persists on the coastal bluff next to the parking lot at Greyhound Rock County Park in northern Santa Cruz County. Threats here are succession, non-native plants, recreation, and coastal erosion.
There are two documented San Mateo County occurrences. The southernmost, near the Pigeon Point Lighthouse, is based on a 1983 collection from an area that has not been revisited. Other populations along the bluffs just south of the lighthouse were observed by James A. West in the 1980s and should be surveyed for. Threats in this area are agriculture and coastal erosion.
A brand-new San Mateo County occurrence is based on a 2015 discovery during a CNPS rare-plant treasure hunt. A small population was found by Randall Morgan growing with other rare plants (Leptosiphon croceus and Castilleja ambigua subsp. ambigua) in a coastal prairie remnant on a coastal bluff in a small county park (Corelli, pers. comm.). Threats to this population include a planned development, non-native species (the small grasses were smothered in iceplant at the time of discovery), recreational use, and coastal erosion.
Other locations along the San Mateo coast where Agrostis blasdalei has been observed include Bean Hollow State Beach, the bluffs north of Pescadero Marsh, and the coastal terrace south of Franklin Point (West, pers. comm.) Surveys are needed to determine the status of these and possibly other populations in coastal bluff/headlands habitat in northern Santa Cruz and San Mateo counties. These areas have been eroding rapidly in recent years.
References
California Fish and Game Commission. 2008. Notice of findings: Marin bent grass (Agrostis blasdalei). http://www.fgc.ca.gov/regulations/2008/mbgntcfindingsdelistwarranted.pdf [accessed 15 December 2015].
California Native Plant Society (CNPS), Rare Plant Program. 2015. Agrostis blasdalei, in Inventory of Rare and Endangered Plants (online edition, v8-02). California Native Plant Society, Sacramento, CA. http://www.rareplants.cnps.org/detail/77.html [accessed 15 December 2015].
Corelli, T. Personal communication [16 December 2015].
Crampton, B. 1967. New Agrostis from the California coast. Brittonia 19:174–177.
Hickman, J. C. (ed.). 1993. The Jepson manual: vascular plants of California. University of California Press. Berkeley, CA.
Hitchcock, A. S. 1905. North American species of Agrostis. U.S. Department of Agriculture Bureau of Plant Industry Bulletin 68:36.
Hitchcock, A. S. 1971. Manual of the grasses of the United States, volume 1, 2nd edition. Dover Publications, Inc., New York, NY.
Munz, P. A. and D. D. Keck. 1973. A California flora and supplement. University of California Press. Berkeley, CA.
Peterson, P. M. and M. J. Harvey. 2014. Agrostis blasdalei, Revision 2, in Jepson Flora Project (eds.) Jepson eFlora, http://ucjeps.berkeley.edu/cgi-bin/get_IJM.pl?tid=12270 [accessed 15 December 2015].
West, J. A. 2015. Traversing Swanton Road. http://arboretum.ucsc.edu/pdfs/traversing-swanton.pdf [accessed 30 December 2015].
West, J. A. Personal communication [16 December 2015].