threatened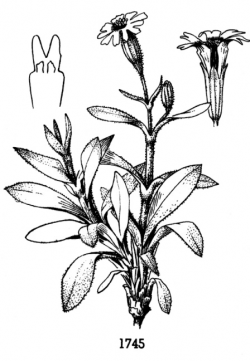 Illustration from Abrams (1944).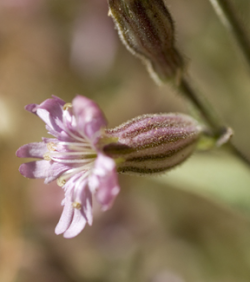 Photo taken in the Swanton area, Santa Cruz County © 2007 Dylan Neubauer.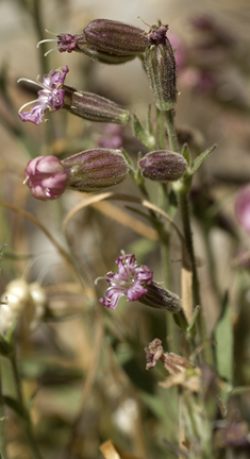 Photo © 2007 Dylan Neubauer.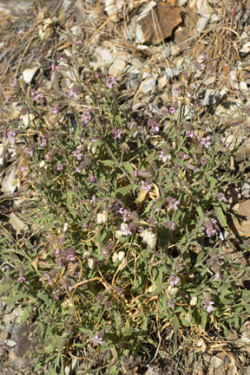 Photo taken © 2007 Dylan Neubauer.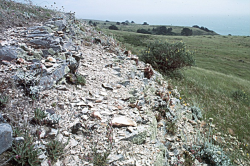 Photo taken in the Swanton area, Santa Cruz County © Dean W. Taylor.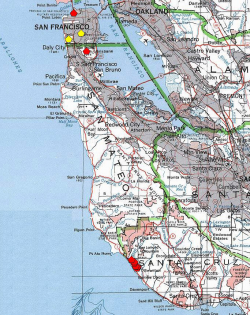 A red polygon indicates an extant occurrence; yellow indicates the occurrence has been extirpated.
---



This fact sheet was prepared by Grey F. Hayes and Dean W. Taylor under award NA04N0S4200074 from the National Oceanic and Atmospheric Administration (NOAA), U.S. Department of Commerce (DOC). The statements, findings, conclusions, and recommendations are those of the authors and do not necessarily reflect the views of the NOAA or the DOC.
© Copyright 2006, Elkhorn Slough Coastal Training Program
Last updated: Mar 6, 2015 16:58
Common Names - San Francisco campion
Family - Caryophyllaceae (Pink Family)

State Status - none
Federal Status - none
Habitat
Rock outcrops and rocky openings in coastal bluff scrub (in our region on Santa Cruz Mudstone or sandstone); 30–645 m.
Key Characteristics
Short-lived perennial herbs to 55 cm tall from a branched caudex, stems puberulent; leaves thin, flexible, gradually reduced upward, lower generally 3–6 cm, generally lanceolate, middle spreading to ascending, upper 1–4.5 cm, linear to lanceolate; flowers in a loose irregular panicle or raceme, erect; calyx 10–15 mm long, sparsely short-hairy; petals pale rose, well exserted, 2-cleft, claw ciliate at base; stamens and style included; capsule short-stipitate (Wilken 1993).
Flowering Period
March to August

Reference Population
Swanton area (Santa Cruz County)
Global Distribution
Endemic to central coastal California in Santa Cruz, San Francisco, and San Mateo counties (CNPS 2014).
Conservation
Botanists have observed that the name Silene verecunda has long served as a "taxonomic dumping ground" for entities generally fitting its description (Stoughton et al. 2014). The type specimen for the wide-ranging entity currently defined as S. verecunda S. Watson (throughout the southwestern USA) was collected from Mt. Davidson in the San Francisco Bay Region on a serpentinite-derived substrate.
The 2005 Flora of North America North of Mexico treatment (Morton) observes that Silene v. is an "exceptionally variable species, very difficult to circumscribe" and intergrades with other Silene species. It further states that the various forms of S. v. "appear to intergrade freely and, based on current information, any separation would be arbitrary. The species is in need of an experimental study to determine the nature of variation and its taxonomic value."
Recent studies (Popp and Oxelman 2007; Petri and Oxelman 2011) have determined that the taxon as currently circumscribed is paraphyletic (Stoughton et al. 2014). Stoughton proposes that "some of the morphological variation observed by previous authors may have a genetic basis and that the associated ecological affinities may represent locally adapted genotypes rather than phenotypic plasticity in a widespread, generalist species." Indeed, his unpublished data (Stoughton et al. 2014) "suggest that numerous monophyletic taxa exist in the S. verecunda complex. Clearly, more work is needed to define these relationships.
The latest treatment (Hartman et al. 2016) does not recognize subsp. verecunda (or any other subspp.), though this taxon still retains a California Rare Plant Rank of 1B in the California Native Plant Society Rare and Endangered Plant Inventory (2016).
The U.S. Fish and Wildlife Service rejection of a petition to list this species cited an erroneous, wider ecological amplitude than is known (i.e., the species does not occur in mixed evergreen forest and chaparral) as a basis for decreased endangerment concern; the petition rejection cited only 2700 total known plants.
Several sites in and about the city of San Francisco are extirpated. Populations on San Bruno Mountain are continually impacted by communication facility maintenance—a general indicator of lack of understanding of the status of this species. The occurrences in Santa Cruz County are small and vulnerable and are subject to grazing impacts, road maintenance, and recreation.
Five small populations are still extant in the Swanton area, as of 2015 (J. A. West, pers. comm.). A population consisting of several plants impacted by recreation and erosion was reported in 2015 from Big Basin Redwoods State Park.
References
Abrams, L. 1944. Illustrated flora of the Pacific States, vol. 2. Stanford University Press, Palo Alto, CA.
California Native Plant Society (CNPS), Rare Plant Program. 2015. Silene verecunda ssp. verecunda, in Inventory of Rare and Endangered Plants (online edition, v8-02). California Native Plant Society, Sacramento, CA. http://www.rareplants.cnps.org/detail/1477.html [accessed 23 January 2015].
California Natural Diversity Database (CNDDB). 2015. California Department of Fish and Wildlife RareFind 5. http://www.dfg.ca.gov/biogeodata/cnddb/mapsanddata.asp [accessed 25 February 2015]
Hartman, R. L., R. K. Rabeler, and D. H. Wilken 2016. Silene verecunda, in Jepson Flora Project (eds.) Jepson eFlora, http://ucjeps.berkeley.edu/cgi-bin/get_IJM.pl?tid=44589 [accessed 23 March 2016].
Morton, J. K. 2005. Silene. Pp. 166-214 in Flora of North America Editorial Committee, eds. Flora of North America North of Mexico, vol. 5. Oxford University Press, New York, NY.
Petri, A. and B. Oxelman. 2011. Phylogenetic relationships within Silene (Caryophyllaceae) section Physolychnis. Taxon 60:953-968.
Popp, M. and B. Oxelman. 2007. Origin and evolution of North American polyploid Silene (Caryophyllaceae). American Journal of Botany 94:330-349.
Stoughton, T. R., D. D. Jolles, and H. Bartosh. 2014. Recognizing a new species of Silene (Caryophyllaceae) from California: a splitter's game?
West, J. A. Personal communication [25 February 2015].
Wilken, D. H. 1993. Silene, in The Jepson manual: vascular plants of California, J. C. Hickman (ed.). University of California Press, Berkeley, CA.