threatened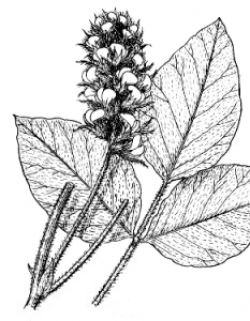 Illustration from Abrams (1944).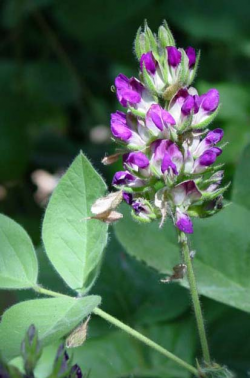 Photo taken near Coyote Creek at the edge of the Diablo Foothills © 2004 Janell Hillman.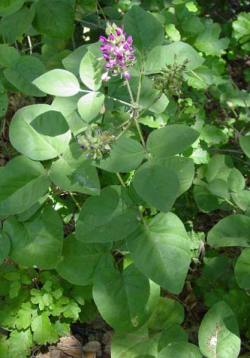 Photo © 2004 Janell Hillman.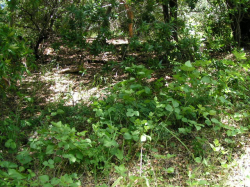 Photo taken at Rancho Canada del Oro in valley oak/California bay/coast live oak woodland © 2006 Tom Cochrane.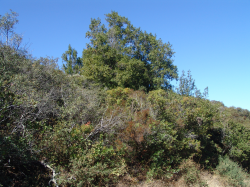 Photo taken at Sierra Azul Open Space Preserve in serpentine chaparral woodland © 2005 Matt Sagues.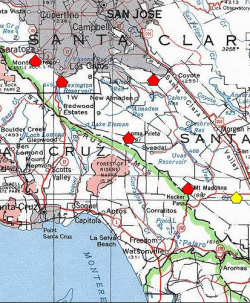 A red polygon indicates an extant occurrence; yellow indicates the occurrence has been extirpated.
---



This fact sheet was prepared by Grey F. Hayes and Dean W. Taylor under award NA04N0S4200074 from the National Oceanic and Atmospheric Administration (NOAA), U.S. Department of Commerce (DOC). The statements, findings, conclusions, and recommendations are those of the authors and do not necessarily reflect the views of the NOAA or the DOC.
© Copyright 2006, Elkhorn Slough Coastal Training Program
Last updated: Sep 5, 2007 09:46
Common Names - Loma Prieta hoita
Family - Fabaceae (Legume Family)

State Status - none
Federal Status - none
Habitat
Mesic openings in chaparral or oak woodland, serpentine, or related Franciscan-formation substrata, and descending in gravelly creekbeds draining from the mountains into the Santa Clara Valley; 30-860 m.
Key Characteristics
Erect perennial herb, rarely to 1 m tall, gland-dotted, hairs glandular, nonglandular, or both, at least above, caudex woody; stems smooth to striate; stipules free, 7–16 mm long, becoming reflexed; petiole 3–7 cm long; leaves odd-1-pinnate, cauline, leaflets 3, 4.5–8 cm long, lanceolate to round; inflorescence a spike-like raceme, 3–8 cm long, axillary, with 1 deciduous bract, peduncle 4–6 cm long, 2–3 flowers per node; flower 13–19 mm, calyx 13–17 mm, lobes > tube, lowest ± keeled, > others; banner 12–13 mm; corolla at least partly blue to purple; fruit dark brown to black, veins obvious (Wojciechowski and Grimes 2013).
Flowering Period
June to August
Reference Population
None locally; Lexington Reservoir County Park (Santa Clara County).
Global Distribution
The Santa Cruz Mountains in Santa Clara County and on the border of Santa Cruz/Santa Clara counties, the foothills of the Hamilton Range below Coyote Ridge in Santa Clara County, and the El Sobrante Hills in Contra Costa County. An Alameda County occurrence in the Oakland Hills is extirpated.
Conservation
This legume is an example of a very distinct, very rare species that went essentially unnoticed (and lacked protection measures) because of a paucity of voucher specimens available for floristic assessment (it was not treated by Munz 1959, 1968) until a comprehensive monograph was conducted (Grimes 1990). The reports for the Soquel and Santa Cruz quads (CNPS 2010) are unsupported. Being that ultramafic substrata are largely absent from Santa Cruz County, any occurrences other than the those present at the Santa Clara county line are doubtful. Suitable unsurveyed habitat in San Benito County along Highway 25 south of Hollister needs field work. Five new populations have been found recently in Santa Clara County.
References
Abrams, L. 1944. Illustrated Flora of the Pacific States, Vol. 2. Stanford University Press, Palo Alto, CA.
CNPS, Rare Plant Program. 2010. Hoita strobilina, in Inventory of Rare and Endangered Plants (online edition, v8-02). California Native Plant Society, Sacramento, CA. http://www.rareplants.cnps.org/detail/1933.html [accessed 17 February 2015].
Cochrane, T. Personal communication [8 August 2007].

Grimes, J. W. 1990. Systematics of the New World Psoralineae (Fabaceae). Members of the New York Botanical Garden 61:1–114.

Munz, P. A. 1959. A California Flora (Revised with Supplement,1968). University of California Press, Berkeley, CA.
Wojciechowski, M. F. and J. W. Grimes. 2013. Hoita strobilina, in Jepson Flora Project (eds.). Jepson eFlora, http://ucjeps.berkeley.edu/cgi-bin/get_IJM.l?tid=28328 [accessed 17 February 2015].