endangered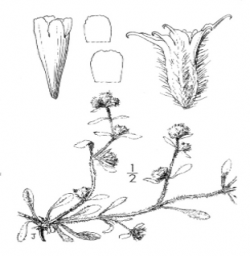 Illustration from Abrams (1944)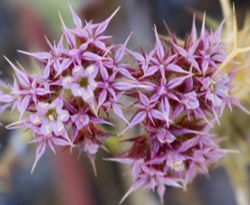 Photo taken at the Bonny Doon Ecological Reserve © 2007 by Dylan Neubauer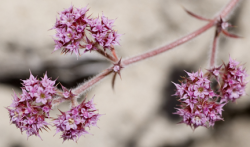 Photo taken at the Bonny Doon Ecological Reserve © 2007 by Dylan Neubauer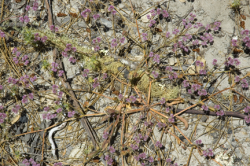 Photo of a single plant taken at the Bonny Doon Ecological Reserve © 2007 by Dylan Neubauer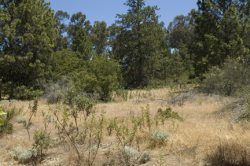 Photo taken at the Bonny Doon Ecological Reserve © 2007 by Dylan Neubauer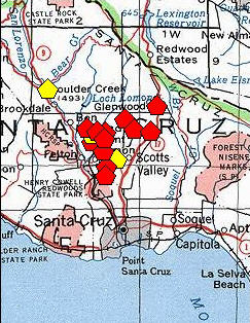 A red polygon indicates an extant occurrence; yellow indicates the occurrence has been extirpated
---



This fact sheet was prepared by Grey F. Hayes and Dean W. Taylor under award NA04N0S4200074 from the National Oceanic and Atmospheric Administration (NOAA), U.S. Department of Commerce (DOC). The statements, findings, conclusions, and recommendations are those of the authors and do not necessarily reflect the views of the NOAA or the DOC.
© Copyright 2006, Elkhorn Slough Coastal Training Program
Last updated: Jun 19, 2007 17:06
Common Names - Ben Lomond spineflower
Family - Polygonaceae (Buckwheat Family)

State Status - none
Federal Status - federal endangered
(February 1994)
Habitat
Openings in sandhill chaparral, or scattered in the understory of Pacific ponderosa pine (Pinus ponderosa var. ponderosa) forests in areas of Miocene inland marine sand deposits (Zayante series) in the southern Santa Cruz Mountains. These areas are termed variously the Zayante, Ben Lomond, or Santa Cruz sandhills (Marangio and Morgan 1987).
Key Characteristics
Erect annual herb <2.5 dm tall, villous throughout; leaves in a basal rosette and at lowest few nodes, oblanceolate, <3.5 cm long at most; inflorescence a relatively dense cyme, with the secondary branches not evident except as terminal inflorescence expressions; bracts 2, opposite, similar to the leaves except in being awned; involucres cylindrical, 3-angled and 6-ribbed, 2.5– 4 mm long, thinly villous; involucral margin thinly rose-membranous; involucral teeth dimorphic, the larger 0.7–1.3 mm long and uncinate, the anterior tooth 1–1.3 mm long, alternating with smaller 0.3-0.7-mm-long ones; anthers maroon. Based on growth habit and involucre-membrane color, not readily confused with Monterey spineflower (C. pungens var. pungens), but more easily confused with Scotts Valley spineflower (C. robusta var. hartwegii) in our region.
Flowering Period
April to July

Reference Population
Bonny Doon Ecological Reserve (Santa Cruz County)
Global Distribution
Endemic to the Santa Cruz Mountains of California

Conservation
The infraspecific epithet chosen for this taxon is unfortunately a tautonym of C. robusta var. hartwegii. Large areas of suitable habitat have been impacted by sand mining and residential development. The populations in both Henry Cowell and Big Basin State Parks are small and not under active management. Relatively similar in general aspect to C. robusta var. hartwegii also of Sect. Pungentes. Plants are short lived (15–21 wks), grow successfully where other vegetation is largely absent, and only in full sun (Kluse and Doak 1999), and in microsites with nutrient-poor soil (McGraw and Levin 1998). Soil seed storage is not well understood (Hames et al. 1993), making it probable that small occurrences in residential areas will decline over time. Some plants with pale pink perianths are intermediate to var. pungens.


References
Abrams, L. 1944. Illustrated Flora of the Pacific States, Vol. 2. Stanford University Press, Palo Alto, CA.

Kluse, J. and D. F. Doak. 1999. Demographic Performance of a Rare California Endemic, Chorizanthe pungens var. hartwegiana (Polygonaceae). American Midland Naturalist 142(2):244–256.

Marangio, M. and R. Morgan. 1987. The endangered sandhills plant communities of Santa Cruz County. In Conservation and Management of Rare and Endangered Plants: Proceedings From a Conference of the California Native Plant Society, T. S. Elias, editor. California Native Plant Society Press, Sacramento, CA.