threatened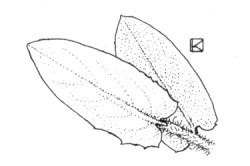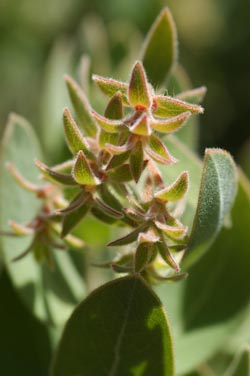 Photo taken at the "Chalks" © 2006 by Dylan Neubauer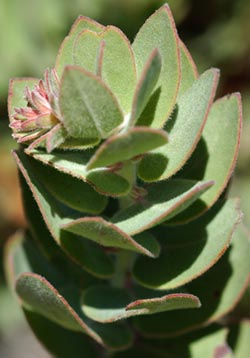 Photo taken at the "Chalks" © 2006 by Dylan Neubauer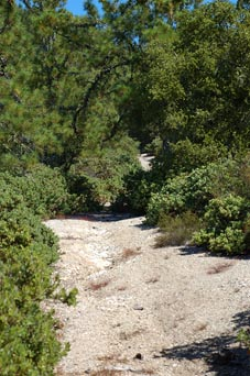 Photo taken at the "Chalks" © 2006 by Dylan Neubauer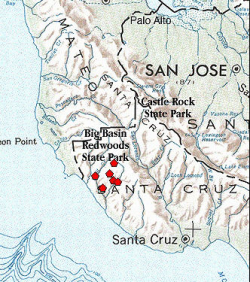 A red polygon indicates an extant occurrence
---



This fact sheet was prepared by Grey F. Hayes and Dean W. Taylor under award NA04N0S4200074 from the National Oceanic and Atmospheric Administration (NOAA), U.S. Department of Commerce (DOC). The statements, findings, conclusions, and recommendations are those of the authors and do not necessarily reflect the views of the NOAA or the DOC.
© Copyright 2006, Elkhorn Slough Coastal Training Program
Last updated: Jun 14, 2007 11:47
Common Names - Schreiber's Manzanita
Family - Ericaceae (Heath Family)

State Status - none
Federal Status - none
Habitat
Diatomaceous shale, marine sandstone and limestone "chalk" ridges on the immediate coast; in stands of mixed manzanitas with knobcone pine (Pinus attenuata); and in Monterey pine (Pinus radiata) forests.

Key Characteristics
Erect shrub to ca. 2 m tall; basal burl absent; twigs with three trichome types: tomentose hairs, longer bristly-white trichomes, and glandular trichomes; leaves grayish, sessile, and clasping, strongly imbricate, isofacial, canescent, and glaucous; lower inflorescence bracts foliaceous; inflorescence 2–4 branched; pedicels finely glandular-bristly; berries densely bristly as well as with red, glandular trichomes.
Flowering Period
November to April (can be identified year-round)
Reference Population
The "Chalks" (Lockheed) (Santa Cruz County)
Global Distribution
Endemic to the maritime side of the Santa Cruz Mountains of California
Conservation
Could been confused with A. regisimontana, A. pallida, and A. pajaroensis, which are similar in general aspect but geographically separated (reports from Monterey, Santa Clara, and San Mateo counties are one of these species misapplied), or A. andersonii, which occurs within its range and intergrades with it. A green-leaved, glabrous form occurs infrequently throughout populations of A. glutinosa, which botanist James A. West believes is a recessive byproduct of A. glutinosa's hybrid ancestry (A. canescens x A. andersonii). Susceptible to fungal die-back in residential areas exacerbated by landscape irrigation. Reproduces only from seed (does not stump-sprout) and requires mineral soil for germination. The 2009 Lockheed fire burned 80-90% of the population, but seedling recruitment has been significant. The extent of distribution requires field surveys. Reports from Eagle Rock are likely misidentified.
.
Reference
West, J. A. 2015. Traversing Swanton Road (essay). http://arboretum.ucsc.edu/pdfs/TraversingSwanton.pdf [accessed 21 January 2015].