threatened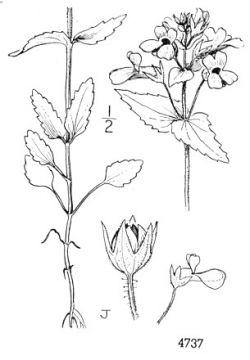 Illustration by Abrams and Ferris (1951)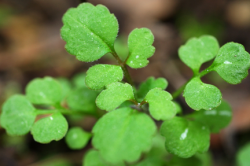 Photo taken in the Scott Creek watershed © 2006 by Dylan Neubauer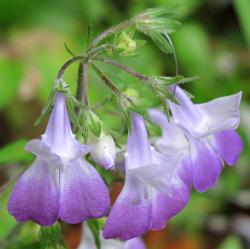 Photo taken in the Scott Creek watershed © 2011 by Dylan Neubauer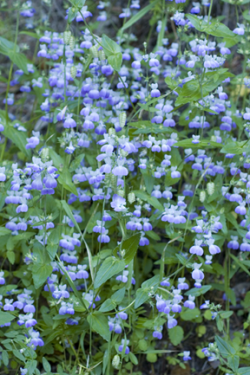 Photo taken in the Scott Creek watershed © 2006 by Dylan Neubauer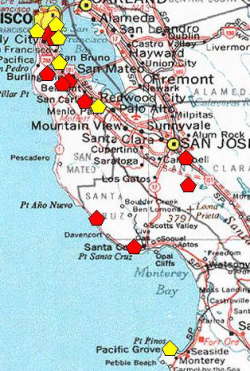 A red polygon indicates an extant occurrence; yellow indicates the occurrence has been extirpated
---



This fact sheet was prepared by Grey F. Hayes and Dean W. Taylor under award NA04N0S4200074 from the National Oceanic and Atmospheric Administration (NOAA), U.S. Department of Commerce (DOC). The statements, findings, conclusions, and recommendations are those of the authors and do not necessarily reflect the views of the NOAA or the DOC.
© Copyright 2006, Elkhorn Slough Coastal Training Program
Last updated: Jun 19, 2007 12:25
Common Names - San Francisco collinsia
Family - Plantaginaceae (Plantain Family)

State Status - none
Federal Status - none
Habitat
Shaded understory of coast live oak (Quercus agrifolia var. agrifolia) woodland or mixed forest in sheltered, canyon bottom settings; in herb rich sites with generally mesic aspect; favors woodlands with high canopy cover but with low to moderate shrub understory
Key Characteristics
Delicate annual herbs to 5 dm tall, sparingly branched above, glandular and sticky above; leaves opposite, lanceolate-deltate, coarsely serrate; flowers clustered into heads (but not as densely so as in C. heterophylla); lower pedicels > calyx; corolla 12–18 mm long with upper lip palest of blue whitish, lower lip and galea lavender. Collinsia sparsiflora is superficially similar, but differs in having smaller flowers and lacking the glandular inflorescence.
Flowering Period
March to May

Reference Populations
San Bruno Mountain (San Francisco County); Almaden Quicksilver County Park (Santa Clara County); Edgewood County Park (San Mateo County); Scott Creek watershed (Santa Cruz County)
Global Distribution
Endemic to central coastal California (Monterey, Santa Cruz, Santa Clara, San Mateo, and San Francisco counties).

Conservation
The historical location near Pacific Grove is presumed extirpated. Several historical occurrences on the San Francisco Peninsula have been extirpated, but one occurrence in the city remains (Wood 1996). Large areas of suitable habitat have not been surveyed, and because it grows on steeper slopes, it is to be expected in rural residential settings. Occurrence in Santa Clara County is not vouchered by herbarium specimens. There are several extant populations in the Scott Creek watershed, two of which are proximal to C. heterophylla populations.

References
Abrams, L. and R. Ferris. 1951. Illustrated Flora of the Pacific States, Vol. 3. Stanford University Press, Palo Alto, CA.

West, J. Personal communication (August 9, 2007).

Wood, M. 1996. Focus on Rarities: San Francisco collinsia, Collinsia multicolor. California Native Plant Society, Yerba Buena Chapter, San Francisco, CA.