threatened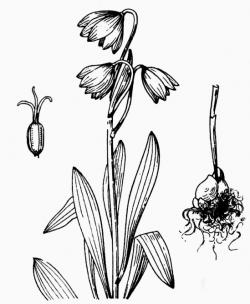 Illustration from Abrams (1940).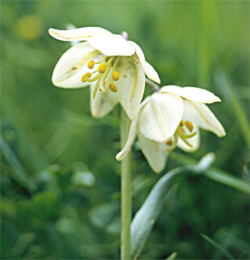 Photo taken at the UC Davis Jepson Prairie Reserve in Solano County © Dean W. Taylor.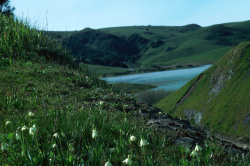 Photo taken at Nicasio Reservoir, Marin County © Stuart McKelvey and CNPS.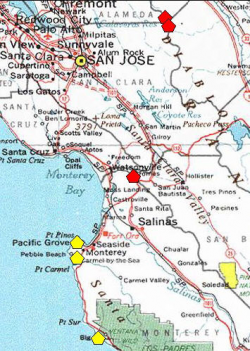 A red polygon indicates an extant occurrence; yellow indicates the occurrence has been extirpated.
---



This fact sheet was prepared by Grey F. Hayes and Dean W. Taylor under award NA04N0S4200074 from the National Oceanic and Atmospheric Administration (NOAA), U.S. Department of Commerce (DOC). The statements, findings, conclusions, and recommendations are those of the authors and do not necessarily reflect the views of the NOAA or the DOC.
© Copyright 2006, Elkhorn Slough Coastal Training Program
Last updated: Jul 21, 2006 16:34
Common Names - fragrant fritillary
Family - Liliaceae (Lily Family)

State Status - none
Federal Status - none
Habitat
Adobe or clay-rich soils in coastal prairie or native bunchgrass grasslands, frequently on serpentine-derived soils; 3-410 m.
Key Characteristics
Bulb with 2–7 large scales, 1–2 smaller scales ("rice-grain bulblets"); leaves 2–20, alternate, blades greenish, glabrous, 6–16 mm wide and 3.5–12 cm long; flowering stems to 3.5 dm tall; flowers 1–2, nodding, scent lacking or faint; tepals white with a greenish-yellow mid-stripe area, 1–1.6 cm long, nectary 1/2–2/3 perianth, narrowly linear, purplish to greenish; style divided about mid-length (McNeal and Ness 2013).

Flowering Period
February to April

Reference Population
UC Davis Jepson Prairie Reserve (Solano County)
Global Distribution
Endemic to California in Alameda, Contra Costa, Monterey, Marin, San Benito, Santa Clara, San Francisco, San Mateo, Solano, and Sonoma counties (CNPS 2014).
Conservation
The presumed extirpated occurrences of this plant on the Monterey Peninsula differed in having a musky floral odor, in contrast to the sweet odor reported from most colonies and in cultivation (Pratt and Jefferson-Brown 1987), perhaps suggesting they represent an undescribed taxon (an observation attributed to Wayne Roderick by Howitt and Howell 1973). Colonies once occurred near Carmel, Pacific Grove, and Pebble Beach.
An occurrence near Pfeiffer Point may remain extant but has not been investigated in the field—searches along headland cliffs in the Big Sur region are needed. One site in our region (and with the typical sweet odor), near Aromas, is grazed—the plants have done better recently under cattle grazing and were more impacted in the past by sheep grazing. A population near Salinas would be affected by the Rancho San Juan subdivision. A San Mateo population that has been called F. agrestis appears to be more closely aligned with F. liliacea. This population is on State Parks property and is vulnerable to erosion and recreational uses.
Many sites in the greater San Francisco Bay region are extirpated or vulnerable. Once occurred in San Francisco, where attempts at reintroduction have yet to produce a viable population.
References
Abrams, L. R. 1940. Illustrated Flora of the Pacific States, Vol. 1. Stanford University Press, Palo Alto, CA.

CNPS, Rare Plant Program. 2014. Fritillaria liliacea, in Inventory of Rare and Endangered Plants (online edition, v8-02). California Native Plant Society, Sacramento, CA. http://www.rareplants.cnps.org/detail/824.html [accessed 9 February 2015].
Howitt, B. F. and J. T. Howell. 1973. Supplement to the vascular plants of Monterey County, California. Pacific Grove Museum of Natural History, Pacific Grove, CA.
McNeal, D. W. and B. D. Ness. 2013. Fritillaria falcata, in Jepson Flora Project (eds.). Jepson eFlora, http://ucjeps.berkeley.edu/cgi-bin/get_IJM.pl?tid=26153 [accessed 9 February 2015].
Pratt, K. and M. Jefferson-Brown. 1987. The gardener's guide to growing fritillaries. Timber Press, Portland, OR.