endangered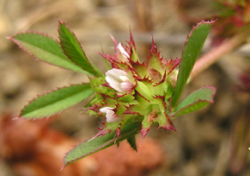 Photo taken in Mendocino County © 2006 Kerry Heise.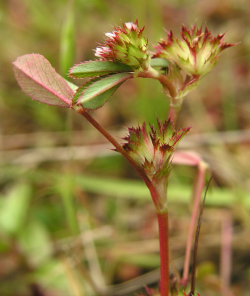 Photo © 2006 Kerry Heise.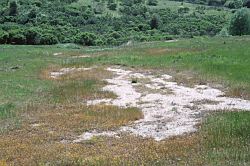 Photo taken at Pogonip Park, Santa Cruz County © Dean W. Taylor.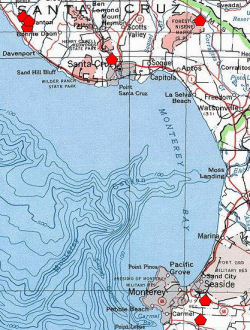 A red polygon indicates an extant occurrence.
---



This fact sheet was prepared by Grey F. Hayes, Dean W. Taylor, and Dylan Neubauer under award NA04N0S4200074 from the National Oceanic and Atmospheric Administration (NOAA), U.S. Department of Commerce (DOC). The statements, findings, conclusions, and recommendations are those of the authors and do not necessarily reflect the views of the NOAA or the DOC.
© Copyright 2006, Elkhorn Slough Coastal Training Program
Last updated: Mar 7, 2015 13:08
Common Names - Santa Cruz clover
Family - Fabaceae (Legume Family)

State Status - none
Federal Status - none
Habitat
Ranging from vernally moist swales to saturated, clay-rich upland soils in coastal prairie, vernally moist dune hollows, and edges of humic-soil meadow openings in forest; 105-710 m.
Key Characteristics
Small, glabrous, decumbent to ascending annual herb; leaves cauline, stipules with many bristle-tipped teeth, leaflets 3, 0.5–1.5 cm long, elliptic to obovate, finely serrate; inflorescence head-like, involucrate, 8–12 mm diameter, 5–many-flowered; involucre bowl-shaped, irregularly toothed, serrate; calyx tube 4–5 mm long, 10-veined, lobes < tube, terminated by a 1–1.5-mm-long bristle and with 3–5 lateral teeth; corolla pinkish white, 6–7 mm long, the keel darker. First heads enclosed in stipules, reduced, appearing cleistogamous (Vincent and Isely 2013). Small plants of the more common Trifolium microcephalum are superficially similar, but invariably have entire calyx lobes.
Flowering Period
April to October

Reference Populations
Pogonip Park (Santa Cruz County); Fort Ord National Monument (Monterey County).
Global Distribution
Endemic to central and northern California (Monterey, Santa Cruz, Santa Clara, San Mateo, Sonoma, and Mendocino counties)
Conservation
Discovered by botanist James A. West in the Scott Creek watershed in Santa Cruz County, this species was later discovered in Monterey, San Mateo (1995), Sonoma (at two sites, one has since been extirpated), Marin (one site), Monterey, Santa Clara (one site), and Mendocino (three sites) counties. As of 2007, the population at the type locality in the Scott Creek watershed has disappeared, with only one viable population remaining in the area.

A very small population adjacent to Buzzard's Lagoon in The Forest of Nisene Marks State Park was located in 2014, though plants were disfigured by a fungal disease and vulnerable to trampling. The population along Cusick's trail in Nisene Marks has not been seen since 1987, and the site is badly damaged by feral-pig rooting. The population in Pogonip Park in Santa Cruz is very small and vulnerable to recreational activity; plants do not appear in dry years. A population north of Boulder Creek was found in 2006 containing 200+ plants. One of two populations in Monterey is threatened by development. (A dwarf form of this species is endemic to Monterey County.)

References
Isely, D. 1992. Innovations in California Trifolium and Lathyrus. Madroño 39(2):90–97.
Vincent, M. and D. Isely. 2013. Trifolium buckwestiorum, in Jepson Flora Project (eds.). Jepson eFlora, http://ucjeps.berkeley.edu/cgi-bin/get_IJM.pl?tid=47057 [accessed 7 March 2015].
Morgan, R. Personal communication [July 2006].
West, J. A. 2015. Traversing Swanton Road. http://arboretum.ucsc.edu/pdfs/traversing-swanton.pdf [accessed 15 January 2015].