threatened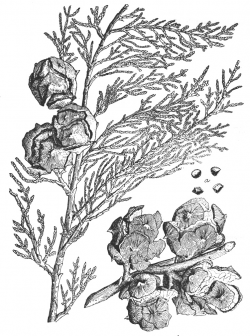 Illustration from Sudworth (1908).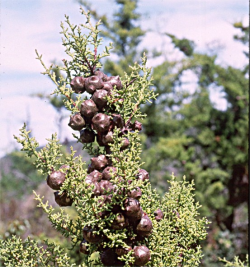 Photo taken at the S.F.B. Morse Botanical Reserve in the Del Monte Forest on the Monterey Peninsula © Dean W. Taylor.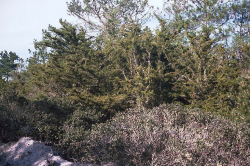 Photo taken at the S.F.B. Morse Botanical Reserve. In the background is Bishop pine (Pinus muricata) © 1978 Lee Dittmann, used with permission.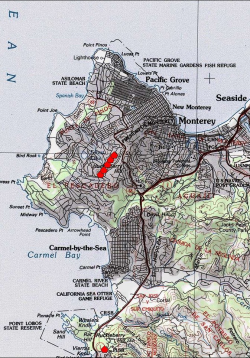 A red polygon indicates an extant occurrence.
---



This fact sheet was prepared by Grey F. Hayes and Dean W. Taylor under award NA04N0S4200074 from the National Oceanic and Atmospheric Administration (NOAA), U.S. Department of Commerce (DOC). The statements, findings, conclusions, and recommendations are those of the authors and do not necessarily reflect the views of the NOAA or the DOC.
© Copyright 2006, Elkhorn Slough Coastal Training Program
Last updated: Jul 19, 2006 15:19
Common Names - Gowen cypress
Family - Cupressaceae (Cypress Family)

State Status - none
Federal Status - federal threatened
(August 1998)
Habitat
Pleistocene inland marine terrace deposits and associated sandstones on acid (pH ca. 4.6), leached podsol soils, forming a thicket (pygmy forest) commonly bordered by Monterey pine (Pinus radiata) forest.
Key Characteristics
Small trees 5–7 m tall, sparingly branched when young, and without a long, whip-like terminal shoot; bark fibrous, thin, gray, broken into vertical strips; needles scale like, bright- to yellow-green, resin 0; pollen cones terminal, 2–6.5 mm long, 1.3–3 mm wide, generaly yellow; mature seed cones 14–20 mm long, ± spherical, brown to gray-brown, often green beneath surface, scales 6–10; seed dark brown to blackish (Bartel 2013). Cones retained > 10 yrs, longer than Santa Cruz cypress (H. abramsiana var. abramsiana).
Flowering Period
Male cones—February to March; female cones—March to May, cones ripen August (identification possible throughout the year).
Reference Populations
Point Lobos Ranch State Reserve, S.F.B. Morse Botanical Reserve (Monterey County).
Global Distribution
Endemic to central coastal California on the Monterey Peninsula (Monterey County).
Conservation
Eckenwalder (1993) considers C. abramsiana to be indistinct from C. goveniana; although these taxa are closely related, they represent separate lineages of moderate age (up to 1 million-year-old fossils of Gowen cypress are known from Little Sur (Langenheim and Durham 1963). Growth and survival of Gowen cypress in experimental "pygmy forest" plantings is reduced compared to C. pygmaea. Zavarin et al. (1971) found that terpene profiles suggest a relationship to C. abramsiana, but Bartel's treatment in The Jepson Manual (1993) linked C. goveniana to C. pygmaea. Gowen cypress is primarily endangered by fire suppression in urban settings; it is in cultivation in Europe and elsewhere. Construction of the Poppy Hills Golf Course removed a sizeable stand, where earlier (1970s) expansion of sand mining had previously removed trees (Griffin 1972).
References
Adams, R. P., J. A. Bartel, and R. A. Price. 2009. A new genus, Hesperocyparis, for the cypresses of the western hemisphere. Phytologia 91(1):160–165.
Bartel, J. A. 2013. Hesperocyparis goveniana, in Jepson Flora Project (eds.). Jepson eFlora, http://ucjeps.berkeley.edu/cgi-bin/get_IJM.pl?tid=89296 [accessed 15 February 2015].
CNPS, Rare Plant Program. 2010. Hesperocyparis goveniana, in Inventory of Rare and Endangered Plants (online edition, v8-02). California Native Plant Society, Sacramento, CA. http://www.rareplants.cnps.org/detail/535.html [accessed 15 February 2015].
Griffin, J. R. 1972. What's so special about Huckleberry Hill on the Monterey Peninsula? California Native Plant Society, Monterey Chapter newsletter 8(2):14–15.
Langenheim, J. H. and J. W. Durham. 1963. Quaternary closed-cone pine forest from travertine near Little Sur, California. Madroño 17:33–51.

McMillan, C. 1964. Survival of transplanted Cupressus and Pinus after thirteen years in Mendocino County, California. Madroño 17:250–253.

Sudworth, G. B. 1908. Forest Trees of the Pacific Slope. United States Government Printing Office, Washington, D.C.

Zavarin, E., L. Lawrence, and M. C. Thomas. 1971. Compositional variations of leaf monoterpenes in Cupressus macrocarpa, C. pygmaea, C. goveniana, C. abramsiana and C. sargentii. Phytochemistry 10:379–393.