endangered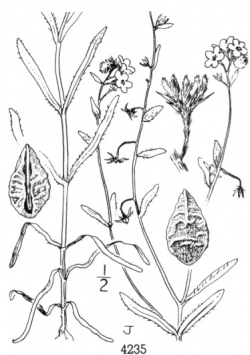 Illustration from Abrams (1951).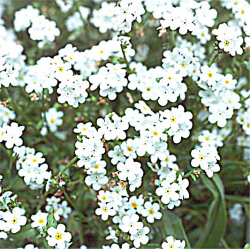 Photo taken at Watsonville Airport, Santa Cruz County © Dean W. Taylor.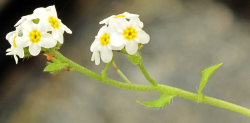 Photo taken in the Scott Creek watershed, Santa Cruz County © 2007 Dylan Neubauer.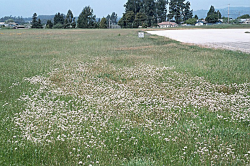 Photo taken at Watsonville Airport, Santa Cruz County © Dean W. Taylor.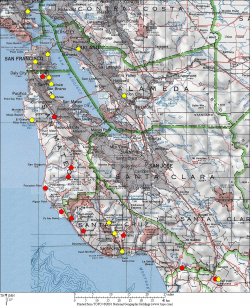 A red polygon indicates an extant occurrence; yellow indicates it has been extirpated.
---



This fact sheet was prepared by Grey F. Hayes and Dean W. Taylor under award NA04N0S4200074 from the National Oceanic and Atmospheric Administration (NOAA), U.S. Department of Commerce (DOC). The statements, findings, conclusions, and recommendations are those of the authors and do not necessarily reflect the views of the NOAA or the DOC.
© Copyright 2006, Elkhorn Slough Coastal Training Program
Last updated: Jul 19, 2006 14:52
Common Names - Choris's popcorn-flower, artist's popcorn-flower
Family - Boraginaceae (Borage Family)

State Status - none
Federal Status - none
Habitat
Vernally wet swales, vernal pools, and saturated soils of herbaceous-plant dominated cliffs and marsh edges along the coast; set in coastal prairie and openings and meadows in oak woodland or mixed-evergreen forest; < 650 m.
Key Characteristics
Annual herb, sparsely short-strigose, decumbent to erect, branched from upper axils; lower leaf pair generally fused at base, ± sheathing stem at node, cauline leaves alternate; inflorescence bracted near base, pedicel generally >> calyx; corolla limb 6-10 mm diameter; nutlet ovate, dull brown, scar near base, linear, in deep groove. Plagiobothrys chorisianus var. hickmanii has stem prostrate, branched from lower axils; leaves of lower pair generally ± not fused at base, not or ± sheathing stem; pedicels generally < calyx, and corolla limb 5-7 mm diameter. Varieties intergrade (Kelley 2013).
Flowering Period
February to May

Reference Populations
Greyhound Rock County Park (Santa Cruz County).
Global Distribution
Endemic to central western California in Alameda (uncertain/presumed extirpated), Monterey, Santa Clara, Santa Cruz, San Francisco, and San Mateo counties (CNPS 2013).
Conservation
In 1862, this plant was once termed "common in the vicinity of San Francisco." The status of the historical occurrences in the San Francisco watershed at Crystal Springs Reservoir are unknown—the species was not addressed in the 1998 Draft Peninsula Watershed Management Plan. The occurrence near Searsville Lake, San Mateo County was not relocated, but there is a known occurrence at Russian Ridge Open Space Preserve and one at Franklin Point. The Franklin Point occurrence was still extant as of 2015, but is threatened by coastal erosion/sea level rise. Many occurrences are known only from herbarium collections over 50 years old and are known or presumed extirpated. The population at the old Skypark airport in Scotts Valley was partially buried by spoil material deposited in coastal prairie habitat. A population at Arana Gulch in Santa Cruz was not seen for > 12 years but appeared after the site was harrowed and de-thatched. Four populations in the Scott Creek watershed are still extant as of 2015, and a population at Younger Ranch was seen in 1998. Threatened by loss of habitat. Some sites may benefit from light grazing.

References
Abrams, L. R. 1951. Illustrated Flora of the Pacific States, Vol. 3. Stanford University Press, Palo Alto, CA.
California Natural Diversity Database (CNDDB). 2015. California Department of Fish and Wildlife RareFind 5. http://www.dfg.ca.gov/biogeodata/cnddb/mapsanddata.asp [accessed 21 February 2015].
CNPS, Rare Plant Program. 2013. Plagiobothrys chorisianus var. chorisianus, in Inventory of Rare and Endangered Plants (online edition, v8-02). California Native Plant Society, Sacramento, CA. http://www.rareplants.cnps.org/detail/1382.html [accessed 25 February 2015].
Kelley, R. B. 2013. Plagiobothrys chorisianus var. chorisianus, in Jepson Flora Project (eds.). Jepson eFlora, http://ucjeps.berkeley.edu/cgi-bin/get_IJM.pl?tid=63885 [accessed 25 February 2015].
West, J. A. Personal communication [21 February 2015].