threatened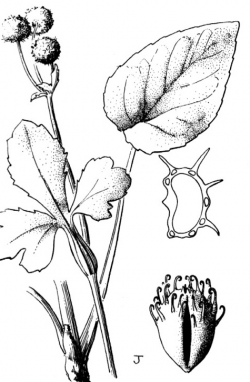 Illustration from Abrams (1951).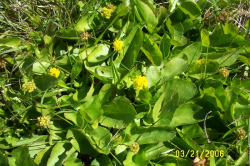 Photo taken in a coastal prairie seep west of Highway 1 in San Luis Obispo County © 2006 Dave Hacker.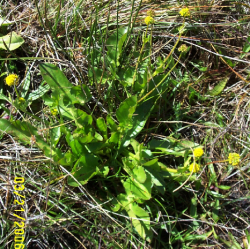 Photo © 2006 Dave Hacker.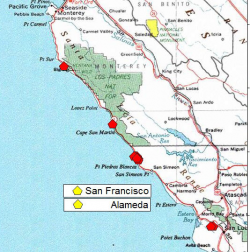 A red polygon indicates the occurrence is extant; yellow indicates it has been extirpated.
---



This fact sheet was prepared by Grey F. Hayes and Dean W. Taylor under award NA04N0S4200074 from the National Oceanic and Atmospheric Administration (NOAA), U.S. Department of Commerce (DOC). The statements, findings, conclusions, and recommendations are those of the authors and do not necessarily reflect the views of the NOAA or the DOC.
© Copyright 2006, Elkhorn Slough Coastal Training Program
Last updated: Jul 25, 2006 09:21
Common Names - adobe sanicle
Family - Apiaceae (Carrot Family)

State Status - state rare
(August 1981)
Federal Status - none
Habitat
Coastal prairie and serpentine bunchgrass grasslands on coastal marine terraces; 30–240 m.
Key Characteristics
Perennial herb to 4 dm tall from taproot; basal and lower cauline leaves simple, entire to ± pinnately lobed or dissected, green at flowering, blade 3–8 cm long, ovate-cordate to obovate, lobes/segments 0, 3, or 5, entire to toothed; inflorescence bracts ± 10, greenish, inconspicuous, < heads, lanceolate, acute; flowers mixed staminate (10–12) with 2.5–3-mm-long pedicels or perfect (3–8) lacking pedicels, corolla yellow, styles 3 x calyx lobes; fruit ± 5 mm long, prickles stout, curved, inflated, bulbous-based distally (Constance and Wetherwax 2013).
Flowering Period
February to May

Reference Populations
Andrew Molera State Park, Jade Cove beach access (Monterey County).
Global Distribution
Endemic to central coastal California in Alameda (presumed extirpated), Monterey, San Francisco (presumed extirpated), and San Luis Obispo counties (CNPS 2014).
Conservation
Our occurrences are small and located along beach paths where they are subject to chronic disturbance from pedestrians, mountain bikers, and horse traffic (Panorama Trail, Andrew Molera State Park) or competition from non-native kikuyu grass (Pennisteum clandestinum, Jade Cove). Field surveys are needed along the length of the coast in our area—additional occurrences are likely in the region.
Reference
Abrams, L. R. 1951. Illustrated Flora of the Pacific States, Vol. 3. Stanford University Press, Palo Alto, CA.
Constance, L. and M. Wetherwax. 2013. Sanicula maritima, in Jepson Flora Project (eds.). Jepson eFlora, http://ucjeps.berkeley.edu/cgi-bin-get_IJM.pl?tid=43177 [accessed 27 February 2015].
CNPS, Rare Plant Program. 2014. Sanicula maritima, in Inventory of Rare and Endangered Plants (online edition, v8-02). California Native Plant Society, Sacramento, CA. http://www.rareplants.cnps.org/detail/721.html [accessed 27 February 2015].