endangered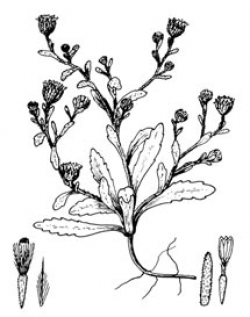 Illustration from Ferris (1960).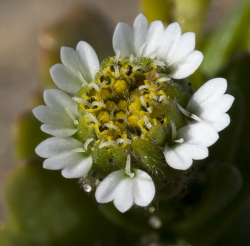 Photo taken at Abbott's Lagoon, Point Reyes National Seashore, Marin County © 2007 Aaron Schusteff.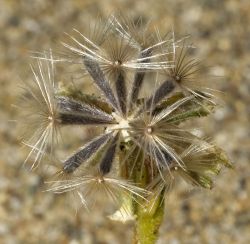 Detail of head in fruit with plumose pappus © 2007 Aaron Schusteff.
Photo © 2007 Aaron Schusteff.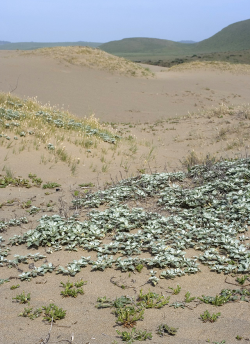 The Layia carnosa are the small green plants in the lower foreground (with more above to the left). With Ambrosia chamissonis and Poa douglasii at Abbott's Lagoon © 2007 Aaron Schusteff.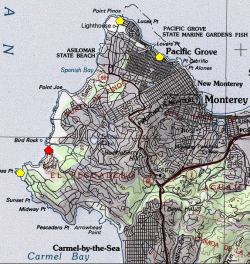 A red polygon indicates an extant occurrence; yellow indicates the occurrence has been extirpated.
---



This fact sheet was prepared by Grey F. Hayes and Dean W. Taylor under award NA04N0S4200074 from the National Oceanic and Atmospheric Administration (NOAA), U.S. Department of Commerce (DOC). The statements, findings, conclusions, and recommendations are those of the authors and do not necessarily reflect the views of the NOAA or the DOC.
© Copyright 2006, Elkhorn Slough Coastal Training Program
Last updated: Sep 3, 2007 12:18
Common Names - beach layia
Family - Asteraceae (Sunflower Family)

State Status - state endangered
(January 1990)
Federal Status - federal endangered
(June 1992)
Habitat
Limited to the openings in sparsely vegetated, semi-stabilized dunes and in somewhat disturbed areas along trails; 0-60 m.
Key Characteristics
Annual herb, 2–18 cm tall, glandular, not strongly scented, stem prostrate to erect, unbranched to highly branched; leaves in a basal rosette, oblong to ovate, fleshy, proximal leaves generally lobed < 1/2 to midvein, cauline leaves becoming linear, bract-like; peduncle < 3 cm; flower heads inconspicuous; ray fls 4–10, ray 1.5–3.5 mm long, white; disk flowers 5–45; anthers dark purplish; ray fruit sparsely hairy; disk pappus of 24–32 bristles or bristle-like scales, ± long-plumose proximally (Baldwin and Bainbridge 2013).
Flowering Period
March to July
Reference Populations
Point Reyes National Seashore (Marin County); Asilomar State Beach (Monterey County).
Global Distribution
Endemic to dunes from southwestern Oregon south to the Central Coast (in Caifornia, historically from Trinidad Head in the north to Point Arguello in the south. Still extant in Humboldt, Marin, and Monterey counties; extirpated in San Francisco and Santa Barbara counties (CNPS 2011).
Conservation
The pre-settlement range of this plant likely included most of the coast where dune fields are present, but was eliminated by stabilization efforts and introduction of European beach grass (Ammophila arenaria), iceplant (Carpobrotus spp.) (USFWS 2011) and, in northern portion of range, yellow bush-lupine (Lupinus arboreus) (Pickart et al. 1998). Populations are patchy in distribution and numbers fluctuate in the dynamic environment of coastal dunes. Plants require some wind-protection, but do not tolerate shading (USFWS 2011).
Four sites on the Peninsula support Layia carnosa. The Asilomar State Beach population was rediscovered in 1990, following ice plant removal. Only 190 plants were seen in 2009 at this site (USFWS 2011). The Indian Village Dunes site supports the largest population, though it is suspected that it was planted (USFWS 2011). The Signal Hill Dunes habitat is degraded and the population there is threatened by recreational uses (pedestrian, equestrian) and invasive plants. The type locality at the Point Pinos dunes has been undergoing restoration, but as of 2011, Layia carnosa had not been reintroduced (USFWS).
Despite the small numbers of plants present on all Monterey Peninsula sites (only ~2,000 plants were counted [excluding Signal Hill] in 2009), the restoration of these populations is significant for the recovery of this species in terms of meeting population goals (USFWS 2011). The USFWS recommended that research be conducted on what the range-limiting factors might be for this species, as numbers remain low at the southern edge of the range in Monterey County (2011).
References
Baldwin, B. G. and S. J. Bainbridge. 2013. Layia carnosa, in Jepson Flora Project (eds.). Jepson eFlora, http://ucjeps.berkeley.edu/cgi-bin/get_IJM.pl?tid=3744 [accessed 19 February 2015].
California Department of Fish and Game. 2005. The Status of Rare, Threatened, and Endangered Plants and Animals of California 2000–2004. Sacramento, CA.
CNPS, Rare Plant Program. 2011. Layia carnosa, in Inventory of Rare and Endangered Plants (online edition, v8-02). California Native Plant Society, Sacramento, CA. http://www.rareplants.cnps.org/detail/960.html [accessed 19 February 2015].
Ferris, R. S. 1960. Illustrated Flora of the Pacific States, Vol. 4. Stanford University Press, Palo Alto, CA.
Pickart, A. J., L. M. Miller, and T. E. Duebendorfer. 1998. Yellow bush lupine invasion in northern California coastal dunes: ecological impacts and manual restoration techniques. Restoration Ecology 6(1):59–68.

U.S. Fish and Wildlife Service. 1998. Recovery Plan for Seven Coastal Plants and the Myrtle's Silverspot Butterfly. Sacramento, CA.
U.S. Fish and Wildlife Service. 2011. Layia carnosa (beach layia) Draft 5-year review: summary and evaluation. Arcata Fish and Wildlife Office, Arcata, California. http://ecos.fws.gov/docs/five_year_review/doc3972.pdf [accessed 18 February 2015].
Reviewers
Bruce Delgado, Joey Dorell-Canepa, Andrea Pickart, Jane Rodgers, and Connie Rutherford (August 2007).