endangered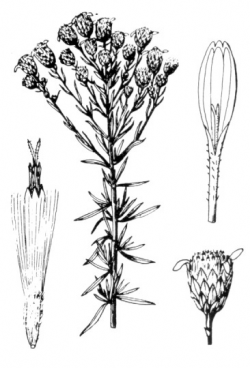 Illustration from Abrams (1960)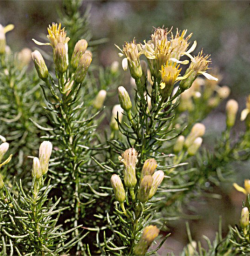 Photo from the S.F.B. Morse Botanical Reserve © Dean W. Taylor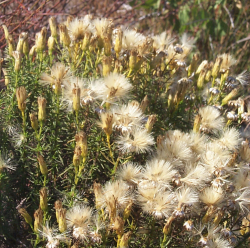 Photo taken at Ford Ord © 1998 by Bruce Delgado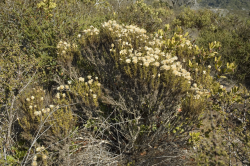 Photo taken at Fort Ord © 2007 by Dylan Neubauer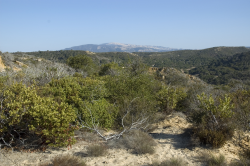 Photo taken at Fort Ord © 2007 by Dylan Neubauer
A red polygon indicates an extant occurrence; yellow indicates the occurrence has been extirpated
---



This fact sheet was prepared by Grey F. Hayes and Dean W. Taylor under award NA04N0S4200074 from the National Oceanic and Atmospheric Administration (NOAA), U.S. Department of Commerce (DOC). The statements, findings, conclusions, and recommendations are those of the authors and do not necessarily reflect the views of the NOAA or the DOC.
© Copyright 2006, Elkhorn Slough Coastal Training Program
Last updated: Sep 3, 2007 09:09
Common Names - Eastwood's goldenbush
Family - Asteraceae (Sunflower Family)
State Status - none
Federal Status - none
Habitat
Confined to sandy, inland, pre-Flandrian sand deposits (Arnold soil series) overtopping leached Aromas sandstone parent material. Found on mesas and hillsides adjacent to and in gaps in maritime chaparral, along edges of coast live oak (Quercus agrifolia var. agrifolia) woodland, and in edges between chaparral and coastal sage scrub. Can also colonize edges of graded roadways.

Key Characteristics
Subshrubs with rounded tops having several main stems and ascending branches, to 1 m tall; leaves (needle-like) smaller in relation to the larger primary leaves, whereas in E. ericoides the primary and secondary leaves are more equal in size; heads with 1 or 2 ray flowers (2–5 in E. ericoides), 20–25 disk flowers (8–12 in E. ericoides); 22–26 involucral bracts (16–22 in E. ericoides); achenes pubescent. When not in bloom, relatively difficult to separate from the more common and widespread E. ericoides.
Flowering Period
July to October
Global Distribution
Ft. Ord, Toro Park, Manzanita Regional Park, S.F.B. Morse Botanical Reserve (Monterey County)
Conservation
Several locations of older herbarium collections near Monterey are presumed extirpated. One large occurrence near the Monterey Airport was nearly eliminated by development in the late 1980s. Plant likes to colonize disturbed areas, so often gets sprayed with herbicide inadvertently. This has occurred in both Manzanita Park and the S.F.B. Morse Botanical Reserve.

Other threats include competition from non-natives and fire suppression. It is thought the species is a facultative, rather than an obligate, resprouter—i.e., it does not require fire to sprout. After a burn, plants resprout vigorously, though smaller and larger-sized plants do not resprout as well as average-sized plants. In addition, the fact that the species is not an obligate seeder—75% of seeds are empty—leads to a very limited range of dispersal. Low-intensity burning has been recommended to maintain populations. Plants that have resprouted once following a fire have a hard time doing it a second time, but immature plants are more resilient. Therefore, low-intensity burning will favor the younger plants, thus altering the demographics of the population. Despite this, burning should help in the long run, since it also decreases the threat of competition from non-natives. Active restoration that inhibits the establishment of weeds post burning is also recommended.

Perhaps because of the fasciculate leaf architecture of E. ericoides, the epithet "fasciculata" is occasionally misapplied to this taxon. The two taxa are closely related (Roberts and Urbtasch 2003) but often ecologically separated: E. ericoides occurs on mobile to stable but young sand deposits and E. fasciculata occurs on older, interior sand deposits.
References
Abrams, L. 1960. Illustrated Flora of the Pacific States, Vol. 4. Stanford University Press, Palo Alto, CA.

Griffin, J. R. 1978. Maritime chaparral and endemic shrubs of the Monterey Bay region, California. Madroño 25(2):65–112.

Roberts, R. P. and L. E. Urbtasch. 2003. Molecular phylogeny of Ericameria (Asteraceae, Astereae) based on nuclear ribosomal 3 ETS and ITS sequence data. Taxon 52(2):233–245.

Van Dyke, E. and K. Holl. 2003. Mapping the Distribution of Maritime Chaparral Species in the Monterey Bay Area. Prepared for the U.S. Fish and Wildlife Service.

Reviewed by Bruce Delgado, John Detka, and Eric Van Dyke (August 2007)