endangered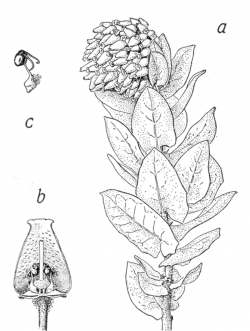 (a) flower branchlet (b) flower section and (c) stamen from Jepson (1951)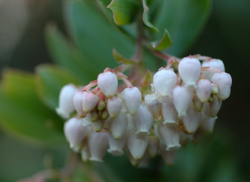 Photo taken at the Bonny Doon Ecological Reserve © 2006 by Dylan Neubauer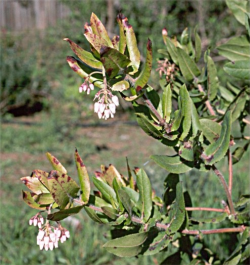 Photo taken near Bonny Doon by Dean W. Taylor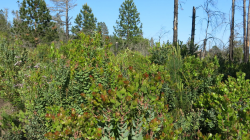 Photo taken at the Bonny Doon Ecological Reserve © 2014 by Dylan Neubauer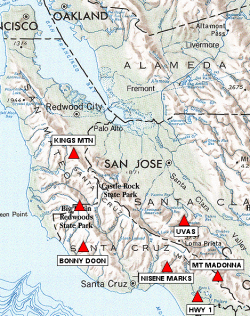 ---



This fact sheet was prepared by Dylan M. Neubauer under award NA04N0S4200074 from the National Oceanic and Atmospheric Administration (NOAA), U.S. Department of Commerce (DOC). The statements, findings, conclusions, and recommendations are those of the authors and do not necessarily reflect the views of the NOAA or the DOC.
© Copyright 2006, Elkhorn Slough Coastal Training Program
Last updated: Jun 17, 2007 18:21
Common Names - Santa Cruz manzanita
Family - Ericaceae (Heath Family)

State Status - none
Federal Status - none
Habitat
Generally below 3000 ft in openings or early-successional stands of mixed forests of Douglas fir (Pseudotsuga menziesii var. menziesii), coast redwood (Sequoia sempervirens), coast live oak (Quercus agrifolia var. agrifolia), Shreve oak (Q. parvula var. shrevei), and madrone (Arbutus menziesii); often found with the burl-former Arctostaphylos crustacea (sspp. crustacea and crinita).
Key Characteristics
Tree-like shrub 2-5 meters tall, basal burl absent, old stem bark smooth, reddish; leaves overlapping, petiole < 4 mm, blade 4-7 cm long, oblong, boat-shaped, base lobed, clasping, stomata on lower leaf surface, appearing glabrous, glaucous to green; nascent inflorescence pendent, bracts leaf-like (occasionally reduced), lanceolate; fruit sticky (Parker et al. 2013).
Flowering Period
February to May (identification possible throughout the year)
Reference Populations
Big Basin Redwoods State Park, Castle Rock State Park, Bonny Doon Ecological Reserve, Forest of Nisene Marks State Park, Highway 1 Buena Vista Rest Area (Santa Cruz County).
Global Distribution
Endemic to the central and southern Santa Cruz Mountains of California in Santa Cruz and Santa Clara counties. Ranges from the La Honda area of San Mateo County south through Santa Cruz County and eastward into Santa Clara Co. A. regismontana is closest to the north, but there is a good-sized gap between the two--then comes A. montaraensis and A. imbricata farther north. To the south is A. pajaroensis and to the east is A. pallida (M. Vasey, personal communication).
Conservation
Plants in the Santa Cruz Mountains exhibit two forms: those from the Bonny Doon region are strongly glaucous while those from Aptos eastward to Mt. Madonna are not. Hybridizes with A. glutinosa, A. sensitiva, A. silvicola, and A. crustacea (sspp. crinita and crustacea). Continually confused with A. regismontana, A. pallida, and A. pajaroensis, which are similar in general aspect but geographically separated.
Declining in some areas due to fire-suppression/shading, though many plants germinated at the Bonny Doon Ecological Reserve following the 2008 Martin Fire. As of 2016, many hundreds of plants are present within the San Vicente Redwoods open space on Ben Lomond Mountain.
Susceptible to fungal die-back in residential areas, exacerbated by landscape irrigation. Reproduces only from seed (does not stump-sprout); requires mineral soil for germination.
Reference
CNPS, Rare Plant Program. 2015. Arctostaphylos andersonii, in Inventory of Rare and Endangered Plants (online edition, v8-02). California Native Plant Society, Sacramento, CA. http://www.rareplants.cnps.org/detail/1564.html [accessed 31 January 2015].
Jepson, W. L. 1951. A Manual of the Flowering Plants of California. University of California Press, Berkeley and Los Angeles, CA.
Parker, V. T., M. C. Vasey, and J. E. Keeley. 2013. Arctostaphylos, in Jepson Flora Project (eds.). Jepson eFlora, http://ucjeps.berkeley.edu/cgi-bin/get_IJM.pl?tid=13904 [accessed 31 January 2015].
Vasey, M. Personal communication [31 January 2015].